"When you do nothing you feel overwhelmed and powerless. But when you get involved you feel the sense of hope and accomplishment that comes from knowing you are working to make things better." – Maya Angelou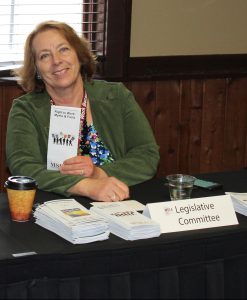 MSEA Supported Federal Bills
S.427- Autism CARES Act of 2019 
-Co-Sponsored by MN Senators Amy Klobuchar and Tina Smith
-Related Bill- H.R.1058 (Passed 9/30/2019) Co-Sponsored by MN Representatives Peterson, Stauber, Craig, Emmer, Omar, Phillips, McCollum, & Hagedorn
S.1306- Protecting the Right to Organize Act of 2019
-Co-Sponsored by MN Senators Amy Klobuchar and Tina Smith
-Identical Bill- H.R.2474 Co-Sponsored by MN Representatives Omar, McCollum, Craig & Peterson
S.1119- Anti-Lunch Shaming Act of 2019
-Co-Sponsored by MN Senator Tina Smith
-Related Bill- H.R.2311 Co-Sponsored by MN Representatives Angie Craig & Betty McCollum
S.1172- Keep Our Promise to America's Children and Teachers Act
-Co-Sponsored by MN Senators Amy Klobuchar and Tina Smith
-Identical Bill- H.R.2315 Co-Sponsored by MN Representative Angie Craig
S.266- Rebuild America's Schools Act of 2019
-Co-Sponsored by MN Senators Amy Klobuchar and Tina Smith
-Identical Bill- H.R.865 Co-Sponsored by MN Representatives Craig, McCollum, Omar, Peterson & Phillips
MSEA Supported State Bills
S.F.50- School safety grants bond issue and appropriation
-Authored by MN State Senator Charles Wiger
S.F.148- School counselor on staff in every school building requirement and appropriation
-Authored by MN State Senators Kari Dziedzic, Susan Kent, Steve Cwodzinski, David Tomassoni & Jerry Newton
H.F.1559- Paraprofessionals paid orientation required, paraprofessional training funding provided, and money appropriated
-Authored by MN State Representatives Cheryl Youakim and Michelle Christensen
-Companion Bill- S.F.1715
H.F.1560- Paraprofessionals paid orientation required, paraprofessional training funding provided, and money appropriated (IEP language addition)
-Authored by MN State Representative Michael Howard
-Companion Bill- S.F.1714
Roles of the Legislative Committee
Educate members legislatively
Engage and empower members to take action
Identify current legislative issues and how they affect members
Research and recommend positions on legislative issues
Serve as a legislative resource for members
Support MSEA's Mission Statement
Devote time and effort to fulfill the committee's role
Would you like to join the Legislative Committee? Contact the office.
The Legislative Committee
Legislative News:
April 12, 2019, The Recognizing Achievement in Classified School Employees Act (H.R. 276) was signed into law. The act is to acknowledge excellence displayed by classified school employees by establishing the Recognizing Inspiring School Employees (RISE) Award Program. It is an important move forward to recognize the essential services provided by classified school employees to students in pre-k through high school.
"MSEA is extremely excited that the National Classified Employee of the Year Bill has been signed by the President. With the help of Bob Canavan and Kellen Flannery setting up appointments in Washington, D.C. over the past few years, MSEA was able to meet with many of the co-sponsors to ask for their support with this bill that directly relates to the members of MSEA," said Amy Woodford, president of Minnesota School Employees Association.  "On behalf of our membership, I wish to express our deep gratitude to those who supported this bill".
Congresswoman Dina Titus (NV-1) spearheaded the campaign which then went to the House of Representatives for a vote on February 25th. The bill passed with a bipartisan support of 387 House Members. Co-sponsors on the bill included Rep. Betty McCollum (MN-4) and Rep. Collin Peterson (MN-7). The bill was then passed in the Senate on March 28th.